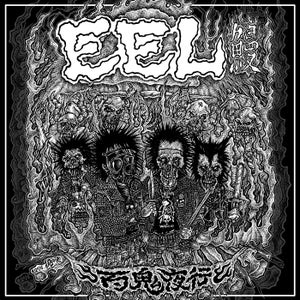 $

13.00
Polish Hell, Pittsburgh's EEL have once again crawled out of a dimly lit basement a few blocks from Gooski's to offer up their most forceful effort yet. "NIGHT PARADE OF 100 DEMONS" is the culmination of a band spending half of a decade perfecting their particular interpretation of the microcosm that is punk. The end result is eleven tracks of violent and destructive commotion that seems to mirror the world that has always surrounded us but is becoming far more apparent as of late. Once again, these freaks of nature achieve their prime objective - bombarding the listener with a relentless barrage of their rust belt style noise drenched hardcore punk... truly an all out aural assault. Each record features stunning black and white cover art by the legendary Japanese hardcore artist Kazuhiro Imai accompanied by a stellar piece on the reverse by Luke Kislak.
There are 100 copies on HIGHLIGHTER YELLOW vinyl available for mailorder.
UPDATE: Color vinyl is SOLD OUT.